The Klippel Laser Scanning Vibrometer (with SCN module) is a fantastic tool allowing your team a complete visualization of the vibrational behavior of transducers, enclosures, baffles and other parts throughout the audio range.
A high precision laser displacement sensor monitors the vibration of the DUT while a turntable rotates the DUT being analyzed. During the scanning process, the SCN accumulates a grid of measurement points for analysis. There is full displacement vs frequency information at each data point. The laser sensor has a repeatability of 0.000025mm [25nm] and is capable of sampling up to 392kHz (actual sampling rate is limited by the Klippel DA to 96kHz).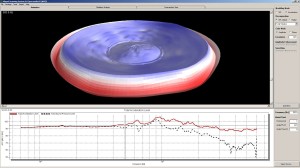 The real star of this apparatus is the software that processes the measurement points and combines them into a visual representation. We can observe the vibrational motion, radiation pattern and SPL response of the unit under test at any relevant frequency. This technique is very useful for finding (and ultimately correcting) resonance, surround anti-phase, rocking modes and other phenomena that cause audible problems. Better yet, the software analyzes the phase and amplitude of the vibrations and generates curves to represent different aspects of the cone behavior, including astonishingly accurate SPL predictions. These curves help to identify the frequencies of interest and to predict the magnitude of the effect. Then, from the visualization at that frequency, the root cause can be determined.
Read more about the SCN Module…