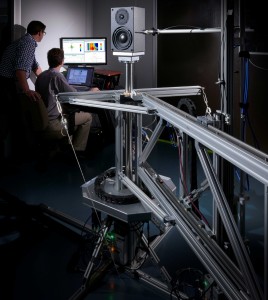 Klippel's Near Field Scanner (NFS) revolutionizes speaker measurement by alleviating the need for an expensive an-echoic environment.
Through the use of precision robotics, a fully automated measurement from any source (speakers, laptops, cell phones) delivers a full compliment of measurement metrics including the device's radiated sound in all axis.
The radiated can also be determined in any desired distance and angle in the 3D space outside the scanning surface in the near and far field. This data can then be exported to the EASE (Enhanced Acoustic Simulator for Engineers) speaker data base to maximize your outreach to AV designers and Acoustical Consultants.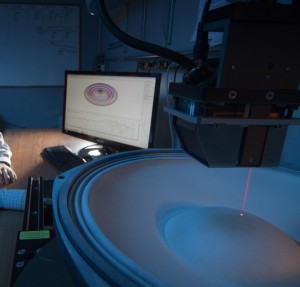 The Klippel Scanning LASER Vibrometer (SCN) is a cutting edge measurement tool that lets you visualize the vibrational and acoustical behavior of transducers, enclosures, baffles and other parts throughout the audio range.
A laser displacement sensor monitors the vibration of the DUT while a CNC turntable rotates the DUT under the laser. During the scanning process the SCN accumulates a grid of measurement points for analysis.
The powerful SCN analysis software processes the data from all measurement points to provide a visual representation, vibrational, radiation pattern and SPL(f) analysis.
---
The Klippel Pro Driver Stand is the apparatus used to secure transducers during measurements. The stand can accommodate drivers up to 18″. For microspeakers we use the Klippel Microspeaker clamp.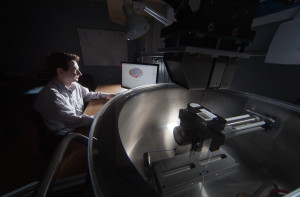 In a vacuum there is no sound. So, why would we want to make acoustic measurements in vacuum? Performing measurements in a vacuum can be very helpful as it allows separation of mechanical resonance issues from air loading effects and is very revealing when measuring microspeakers.
Speaker development parts
Warkwyn has a vast collection of speaker development parts. Having a wide range of components within arms reach expedites project development.
Warkwyn is equipped with a Stanford Research Systems SR1 audio analyzer, allowing us to perform complete amplifier measurements on par with any test facility.
As much as we believe in the value of measurement, we also understand that the final arbiter of a product's worth is the ear of a consumer. At Warkwyn all projects are put through rigorous standardized listening evaluations throughout the design cycle in order to verify that the DUT's sound as good as the measurements look. We set final crossover settings based on listening, tempered by measurements.
Warkwyn has the facilities to A/B/C/D comparisons between up to 4 different 5-channel audio systems simultaneously. This ability to compare so many channels at once grew out of soundbar development and benchmarking.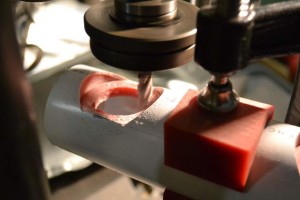 You can't perform a listening test on a computer model!
Warkwyn has well-equipped metal and wood shops, and also 3d printing facilities which can create transducer, baffle and enclosure prototypes—quickly and cost-effectively.
---
Warkwyn Associates use the latest Solidworks Premium 3D CAD software for manufacturing, design rerview and prototyping. We can import and work with most CAD file types, including 3d models and 2d drawings generated by programs such as ProEngineer, AutoCAD and AutoDesk. Warkwyn are also EASE (Enhanced Acoustic Simulator for Engineers) experts- let us perform your room modeling and make sure to ask us how to get your speakers into the growing EASE speaker database.